8 December 2022
The wealthier we become, the fewer homemade meals we eat
Food culture
The wealthier we are, the less time we spend cooking and washing up. This is demonstrated by a global megatrend, now investigated by a researcher at the University of Copenhagen. The trend applies to Danes as well, who now spend an average of 47 active minutes in the kitchen a day.
Frozen pizza, ready-made meals and take-out. Ready-made and quick meals entered Danish households a while back and opportunities to have food delivered to the doorstep grow and grow. Danes are not exempt from a global megatrend whereby food should be quick and easy, while homemade meals become more and more difficult.
"The greater our economic prosperity, the less food we make ourselves. We buy more meals that just need to be reheated and order more take-out. It's a global trend. One that Denmark is lockstep with," says Senior Advisor Henning Otte Hansen of the University of Copenhagen's Department of Food and Resource Economics. Among other things, Hansen investigates megatrends in food markets.
In calculating data from 28 countries, he has shown that there is a clear correlation between higher income level countries and the prevalence of so-called convenience foods over homemade meals. Economic prosperity is measured as gross domestic product per capita.
Many factors at play
In India and Turkey, where GDP per capita is low, people spend an average of 74 minutes cooking and washing dishes every day. At the opposite end of the curve is the United States, where income is very high, and the average American spends 30 minutes in the kitchen.
The figures suggest that income is the primary driver of this phenomenon, but several factors at play according to Hansen.
"When the proportion of working women increases in a country, it doesn't just lead to greater purchasing power for households, it causes a time crunch. And we'd rather spend our free time on something other than standing in the kitchen. This is Maslow's hierarchy of needs," says Henning Otte Hansen, who adds:
"At the same time, household sizes are shrinking. More of us are single and in smaller family units. For example, more than half of all Copenhagen households are single person households. Several studies demonstrate that this affects a one's motivation to cook for themselves."
He also says that technology has contributed to the trend, in part because mobile apps and the internet have made it easier and faster to order take-out. Furthermore, the cost of mass production in the food sector has decreased, providing cheap alternatives to homemade food.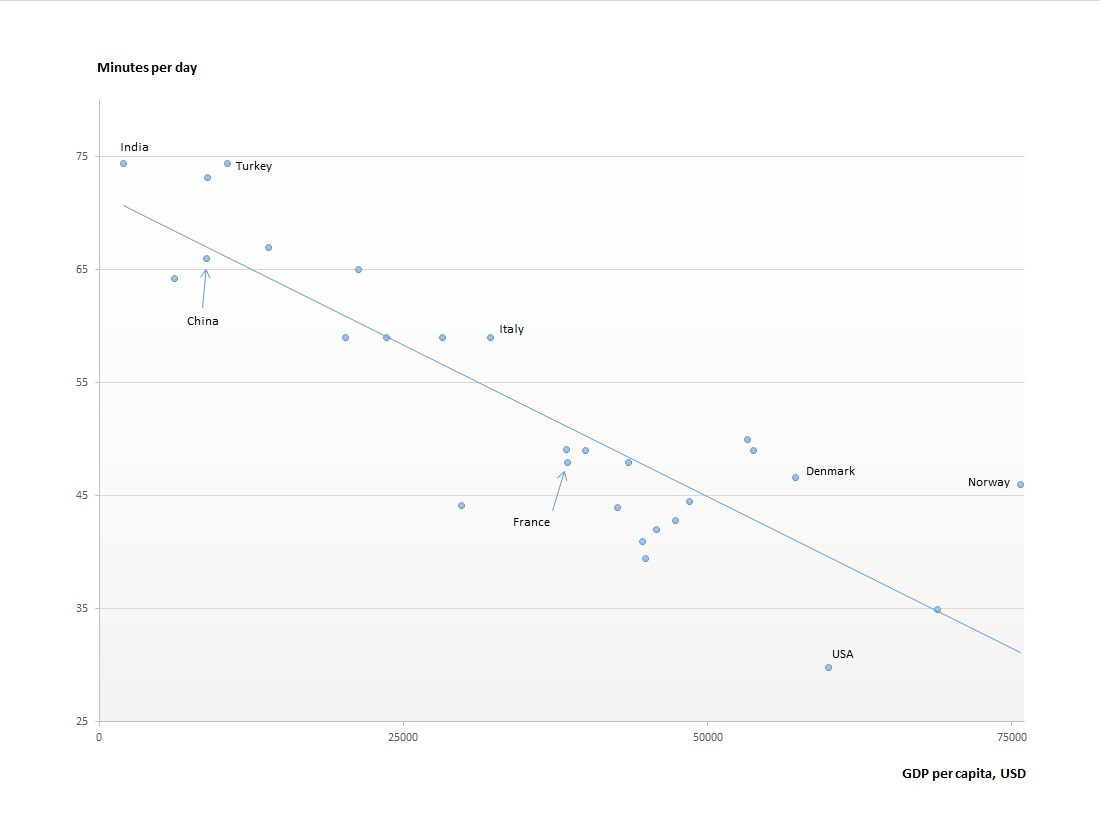 Danes spend 47 minutes in the kitchen
In Denmark, we spend an average of 47 minutes a day cooking and washing dishes. This follows a global pattern. However, we are slightly above the curve (see figure), meaning that we are a bit more active in the kitchen than might otherwise be expected based on our income level.
But the overall trend in Denmark is the same as in other prosperous countries: less homemade food – more of what's quick and easy. This development confirms the latest report on Danes' eating habits by Danish food culture organization Madkulturen, which shows, among other things, that the proportion of ready-made meals, takeaway and food eaten out has grown from one in six evening meals in 2016 to nearly one in four in 2022.
Henning Otte Hansen sees no signs that the global trend is either reversing or coming to halt:
"I think that the curve will only continue in the same direction. Dining out is also a growing trend – despite crisis and recession. About half of all meals in the United States are eaten outside the home. And now, there are even apartments in New York and London being built without kitchens. I believe that Denmark and the rest of the world will continue the trend of going out to eat, just as we have followed the trend of burger bar culture."
Harder to know what you're eating
The evolution of food culture is not without consequences. One of them, the researcher explains, is transparency:
"It is probably going to become more and more difficult to visibly ensure the quality and traceability of ingredients. For example, if you are a consumer who cares about buying local ingredients or wants to know the CO2 footprint of your pizza – you can't see this in a ready-made or take-out meal. This is one of the disadvantages of the trend," says Henning Otte Hansen.
He also points out that farmers and possibly even animal welfare are affected:
"A farmer's share of the revenue for the final food product gets smaller as we eat more ready-made meals. Because even though raw ingredients are becoming cheaper and cheaper to produce, they become more expensive in their final stage, as the road from farm to fork involves a lot of processing, packaging, transportation and more. These long chains typically result in a greater waste of raw materials as well," says Henning Otte Hansen, who concludes:
"At the same time, our demand for convenience food is coming head-to-head with a desire for better animal welfare. Because it's difficult for a farmer who wants to prioritize high animal welfare to fetch the premium price necessary for their products if the raw materials are just going to be used in ready-made meals. Thus, we are now seeing a few conflicting global trends in foodstuffs."
Contact
Henning Otte Hansen
Senior Advisor
Department of Food and Resource Economics
University of Copenhagen
hoh@ifro.ku.dk
+45 35 33 34 32 / +45 30 61 22 87
Maria Hornbek
Journalist
Faculty of Science
University of Copenhagen
maho@science.ku.dk
+45 22 95 42 83
Topics