3 January 2023
Sustainable labs are climate-friendly and save money
Green research
More than 1,200 researchers and laboratory technicians are involved in a new programme that has led to more sustainable laboratories at the University of Copenhagen (UCPH). It benefits the climate and creates green research environments.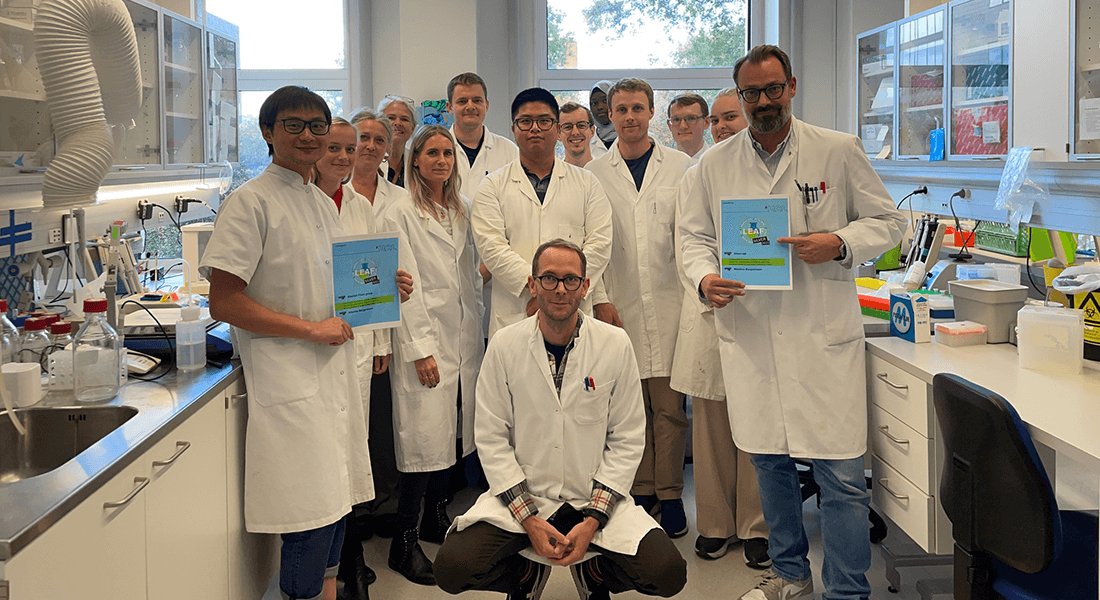 - Finally, we can do something!
That's what programme manager Nikoline Borgermann says when she introduces researchers and laboratory technicians to LEAF (Lab Efficiency Assessment Framework) – a new certification programme that will result in more sustainable laboratories not only at UCPH, but also at universities around the world. 
Laboratories leave a significant footprint on the planet and are key contributors to the University's overall climate footprint. This is due to the large consumption of power, water, reagents and equipment as well as the amounts of waste that laboratories generate.
Green paradox
Nikoline Borgermann has been the driving force behind the programme, which was first launched at the Faculty of Health and Medical Sciences in November 2021. Since then, more than 1,200 researchers and laboratory technicians have taken part in the programme, which has been extended to other parts of the University.
- There has been a great deal of willingness in the organisation to improve sustainability in the labs, she says and continues:
- Most people do a lot of green actions at home, but they haven't known what they could do in the lab. Obviously, this is a paradox for many, which is probably why it's been very easy to involve so many people. And the changes are super visible, Nikoline Borgermann says.  
To achieve the highest level of certification (gold), the laboratory must meet a total of 48 criteria. These include excess lab equipment and materials being shared, repaired locally or sold, and selecting solvents on the basis of environmental friendliness and recyclability.
Making a difference is fantastic
If you ask one of the many researchers who have been through the LEAF programme, it has been completely natural to take part in a programme that improves sustainability.
- It's been surprisingly easy to shift processes in a more sustainable direction, and it's great to be able to make a difference, says Christian Adam Olsen, professor and team lead at the University of Copenhagen.
For Christian Adam Olsen, LEAF has been relatively easy to implement while, at the same time, the new habits and processes have not reduced productivity. In his team, the PhD students have made a particularly big effort, which has resulted in a 'greener' mindset in the lab, for example in relation to focusing on which products are used and reused.
Spares the climate and saves money
Labs are estimated to use from three to ten times more energy per square metre than a typical office. They are extremely resource-intensive and it's one of the areas that the University of Copenhagen will target in order to reduce its CO2 emissions by 50 percent per full-time employee before 2030.
In most laboratories, the many chemicals and equipment leave a huge CO2 footprint, but according to a large pilot of 235 LEAF-certified labs, both money and CO2 was saved. Overall, the 235 laboratories in the pilot reduced their emissions by no less than 648 tons of CO2 while also saving some DKK 7.5 million.
The labs of the future focus on sustainability – no question!
- If you want to attract the best talents in the future, you have to think green, says Dean of the Faculty of Health and Medical Sciences Bente Merete Stallknecht, who is in no doubt that sustainability will be a parameter for both students and future research leaders just as it will be a major factor in the funding of new research.
- Creating sustainable changes is very important to me as dean. And it's excellent that UCPH is now paving the way for the green transition of our research environments and in the efforts to spare the climate where we can.
Contact
Nikoline Borgermann
Sustainable Labs Advisor
35324998
nikoline.borgermann@sund.ku.dk

Christoffer Nyborg
Communications advisor
21938606
cny@adm.ku.dk
Topics