25 June 2020
The Covid-19 lockdown caused young people to strengthen close relationships
Study
Young students have not only learned to live with the lockdown during the corona epidemic. A new study shows that they have strengthened close relationships and found new, creative ways to be together online. But in the long run boredom and lack of motivation creeps in.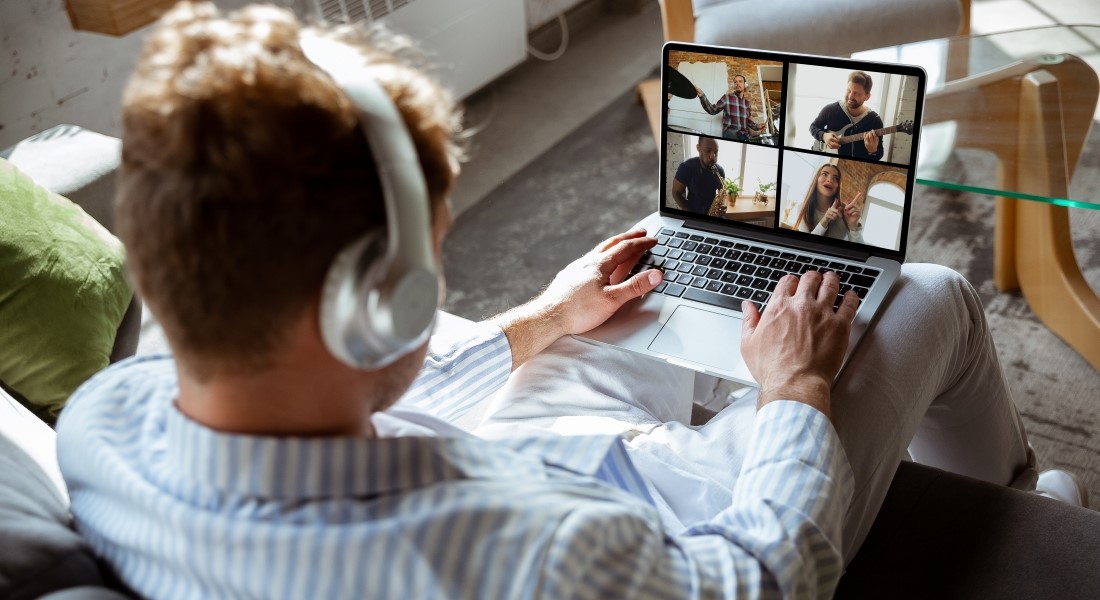 The corona epidemic and the subsequent closure of large sections of society have turned many people's everyday lives upside down. But not everyone has been impacted equally hard.
A new study shows that many young people were surprisingly quick to adapt to a partial state of emergency, where all normal social relationships were suddenly challenged by demands for social distancing and recommendations to stay at home as much as possible.
With the creative use of online solutions and an ability to adapt to this new reality, some of the young people have even managed to strengthen their close relationships with family and friends, thus keeping social deprivation and perhaps even loneliness at bay.
"For young people, the world has not necessarily been turned upside down, nor do they suffer from as much deprivation as one might think. They adjust their everyday lives and are good at using social online platforms. They have therefore not experienced the shutdown as a catastrophic state of emergency, but rather as a challenge to their lives," says Assistant Professor at the Department of Anthropology and Copenhagen Center for Social Data Science (SODAS) Kristoffer Albris.
The study comprises 33 young students, all of whom live at the same Copenhagen dormitory. It is therefore not representative of all students or all young people in Denmark. But what the study lacks in breadth, it has in depth.
The young people have been asked to answer a number of questions on a daily basis about their lives in a logbook and to supplement these answers with their own comments. In addition, 13 young people were interviewed in order to obtain a better picture of their experiences during the lockdown.
Close to family and friends
Many of the Danish young people report how their closest friends and family have been more present in their daily lives after the shutdown – both in the form of more frequent contact or by moving back home with parents for a period of time. The 13 students from abroad who are part of the study were not able to go home, but in turn they have talked much more with their families via digital platforms.
Overall, the study presents a group of young people who, with great flexibility, have adapted to the new conditions, perhaps aided by the fact that this generation has a more natural relationship with social media and online communication than older generations.
The lockdown has served as a creative challenge, and the young people have found new opportunities instead of throwing in the towel.
"They have been creative and used the digital channels for various things such as board game nights, food clubs and Easter lunches. The lockdown has served as a creative challenge, and the young people have found new opportunities instead of throwing in the towel," says Kristoffer Albris.
Academic Project Assistant – and another of the driving forces behind the study at SODAS – Emilie Munch Gregersen, also points out that the lockdown has been a positive experience for some of the young people.
"They have experienced it as a break. The shutdown gave them a chance to reflect on what makes them happy – whether it is taking a walk, meditating or otherwise indulging themselves. In that way, they were given the opportunity to rethink their lives – both when it comes to their daily routines and the relationships that are important to them."
An increasing sense of deprivation and declining motivation
But even though the ability to adapt and the creative use of digital solutions come to mind, this is not the whole story. Nor would the young people be able to balance their lives in the long run.
In the study, the young people's daily answers to the question of the degree to which they suffered social deprivation testifies both to their success at compensating for the lack of physical contact, but also to the difficulties of making it more permanent. (see the Figure).
Figure: Young people's average experience of social deprivation over time
As the figure shows, the young people's experience of social deprivation has generally been low, but at the same time there is a tendency for it to increase over everyday life and during the total period.
According to Emilie Munch Gregersen, it is more about a feeling of increasing monotony and lack of variation in social life than actual loneliness.
"The young people have strengthened close relationships, but they have not been able to interact with their fellow students on a daily basis and, for an example, share study frustrations. They may cope with a compressed social network for a certain amount of time, but in the long run the lack of new impressions is tiring, and the conversations are monotonous. It's just something different than physically meeting with each other. "
For Kristoffer Albris, it is important to emphasise that lockdowns, such as the one we have experienced during the previous months, are not without social costs.
"The fact that the young people have done relatively well during the lockdown must not be taken as an argument that young Danes, or Danes as a whole, are coping with crises like these without it having consequences. Because it does have consequences, especially for those who are already vulnerable," he says.
The young people's own stories
This is also evident in the comments that the students themselves have noted in their logbooks.
It will not be possible to make new friends this year, as I would have otherwise hoped. Feels a little sad.
As one writes: "Throughout the day I have been able to feel a desire after having physical contact with another human being." Another student is a bit more pessimistic: "It will not be possible to make new friends this year, as I would have otherwise hoped. Feels a little sad."
In the answers, the international students do not differ significantly from their Danish counterparts –  with certain exceptions: They have had fewer physical meetings with other people during the lockdown and, in turn, used online contact even more. And of course, they orient themselves very much towards foreign countries and must therefore find a balance between other countries' ways of dealing with the risk of corona infections and the Danish, which some of them have had to deal with along the way. As one reports:
"I was a little bit anxious because before the lockdown. I didn't feel that there were much measures taken in Denmark, so I wanted to go out of Denmark. But then after the lockdown, I felt it was better to stay."
A lesson in crisis management
For Kristoffer Albris and Emilie Munch Gregersen, the study says something about how a small group of young people have managed to adapt to the corona epidemic and our general ability to face an acute societal crisis.
"The study shows that we must not think of the lockdown as an apocalypse. Our lives are changing, we must be prepared for social life to be compressed and to accept more screen time. But life goes on, and the young people in the study have generally been able to handle it," says Kristoffer Albris.
Emilie Munch Gregersen also points out that the spring epidemic has been a learning process for young people.
"If this were to happen again, the young people would know what the pitfalls are when you have to adapt to a daily life, for example when you can't move between locations and interact with your study buddies in daily life. Then it is a help to know what works."
Kristoffer Albris, who also does research on disasters, sees an even broader perspective in the young people's handling of the crisis. Namely, that we as a culture can indeed cope with serious extreme events, even though Denmark has scored relatively low in studies when it comes to our ability to deal with other types of hazards, such as floods.
 
"We can actually adapt, and we will do even better if we learn from this crisis. We should do this because we may face far more dangerous threats in the future, e.g. an epidemic with far higher mortality rate. That is why we need to draw on our experience of how life in a crisis can continue without meeting a total economic and social collapse. This study contributes to an understanding of what a meaningful life during a lockdown can look like. "
The full update (in Danish) on the project site.
Topics
Facts about the study
The study of young people's everyday lives is the third in a series of published sub-studies focusing on the corona crisis during the main project 'The Dynamics of Political Discourse and Attention during the COVID-19 outbreak'. The project is supported by the Faculty of Social Sciences as one of seven projects that has received funding to conduct research on the societal impacts of the corona-crisis.
The first two blog posts on the study's homepage mapped and analysed, which corona-related themes and moods that have characterised the public debate in Denmark with a particular focus on the social media Twitter.
This study and its associated blog post (in Danish) have a significantly different focus as it builds on interviews and daily logbook posts from a group of young residents at the same college. A total of 59 persons participated in the study, of which 33 persons were included in the analysed sample.
Behind the studies is a group of researchers affiliated with the interdisciplinary Copenhagen Center for Social Data Science (SODAS). The following has contributed to the current update:
Emilie Munch Gregersen, Academic Project Assistant, SODAS
Malene Hornstrup Jespersen, Master Student at IT & Cognition, Student Assistant at SODAS
Sofie Læbo Astrupgaard, Master Student at the Department of Anthropology, Student Assistant at SODAS
Tobias Priesholm Gårdhus, Academic Project Assistant, SODAS
Eva Iris Otto, PhD Student at the Department of Anthropology and SODAS
Morten Axel Pedersen, professor at the Department of Anthropology and SODAS
Kristoffer Albris, Assistant Professor at the Department of Anthropology and SODAS
The project is supported by SODAS and the research project DISTRACT – The Political Economy of Distraction in Digitized Denmark.