7 April 2021
Our personality traits explain how we perceive and react to COVID-19
PSYCHOLOGY
Both Danes and Germans with prosocial personality traits are more likely to follow health recommendations, while people with traits that make them more susceptible to negative emotions are more likely to see COVID-19 as a risk in their lives. Researchers from the Universities of Copenhagen and Münster have combined their studies to enable a cross-national comparison.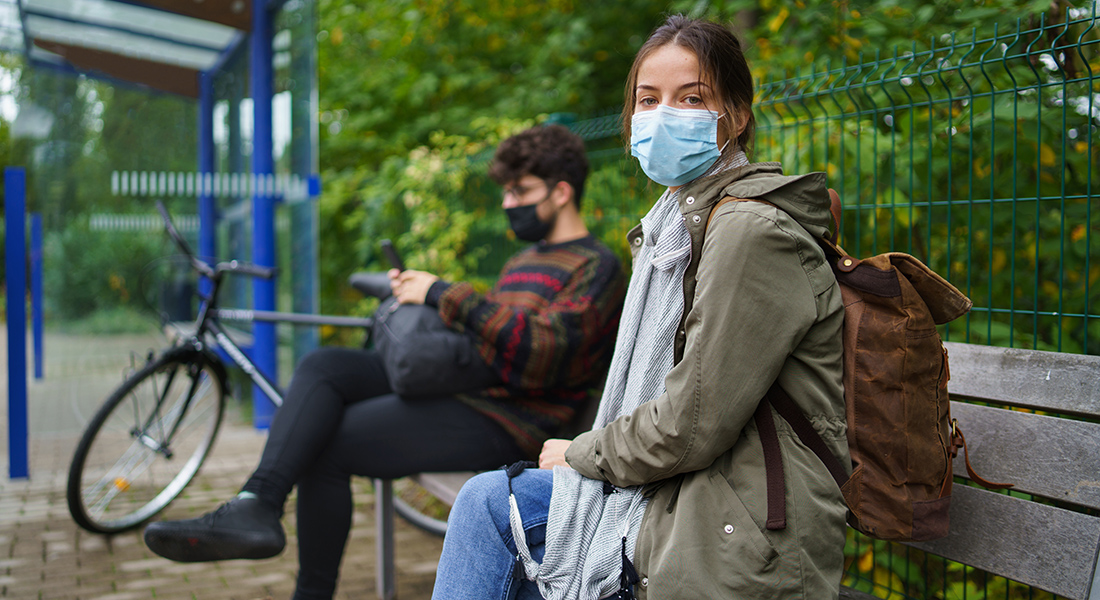 "Our results based on five studies and close to 20,000 people clearly show the influence of personality on specific responses related to COVID-19", says professor Ingo Zettler from the Department of Psychology at University of Copenhagen.
Psychology researchers from Denmark and Germany have investigated how personality relates to perceptions, evaluations, and behavior around COVID-19. The results have now been published in a joint article in the academic journal Social Psychological and Personality Science.
Across the studies, similar results appeared regarding who worried about COVID-19 and who were more likely to follow health recommendations.
"We see that particularly women and people with higher levels in Emotionality (or Neuroticism) are more worried about COVID-19 and seeing it as a risk for various aspects of their life", explains professor Mitja Back from the University of Münster.
"Across the studies, we looked at several traits comprising anti- or prosocial tendencies, including Honesty-Humility, different forms of Narcissism, and the Dark Factor of Personality", says Ingo Zettler, "and the pattern was similar for all of these: People with more prosocial (or less antisocial) tendencies in general reported more consistent behavior in line with the health recommendations when facing COVID-19. In addition, they also reported a stronger feeling of social cohesion in fighting the disease".
Cross-national studies can be important in future catastrophes 
Next to these and other specific insights, the investigation also highlights two further aspects, as professor Back explains: "First, it is really important to look at findings across studies before drawing conclusions, especially in times like the pandemic when policy-makers and the public ask for immediate knowledge. For instance, we not only found similar patterns across the studies, but also some different results, e.g., with regard to how appropriate people perceived the cancellation of events or travel restrictions. Second, it is really important to establish cross-national initiatives that have the infrastructure to conduct similar studies with high quality in different countries on short notice, in case of specific situations—like the pandemic." Ingo Zettler adds: "Indeed, given the high likelihood of future cross-national catastrophes like pandemics or natural disaster, such cross-national initiatives could facilitate obtaining robust results, not only based on a specific sample".
About the study
Three of the five studies were conducted in Denmark, and two in Germany. In all studies, people were asked to fill out personality questionnaires next to providing responses on various scales related to COVID-19. One of the Danish and both German studies were conducted in the beginning of the pandemic in spring 2020, while two of the Danish studies - the COVID-19 Snapshot Monitoring in Denmark (COSMO-Denmark) - have continued since then, and responses until last October were included in the analyses.
Publication
Zettler, I., Schild, C., Lilleholt, L., Kroencke, L., Utesch, T., Moshagen, M., Böhm, R., Back, M. D., & Geukes, K. (in press). The role of personality in COVID-19 related perceptions, evaluations, and behaviors: Findings across five samples, nine traits, and 17 criteria. Social Psychological and Personality Science.
Click here to read the publication and here to read it in preprint.
Topics
Contact

Ingo Zettler
Professor
CoPSY
Department of Psychology
Tel: +45 35 32 48 50
E-mail