28 January 2021
New report: Villages should spur their own development
Villages
A new report from the University of Copenhagen suggests that there should be a focus on what villages can do to contribute to their future development. Previous recommendations primarily revolved around what municipalities and the state can do to ensure for the viability of villages. According to the report's authors, such thinking was misguided. Development must emerge from below, but with greater impact than in the past.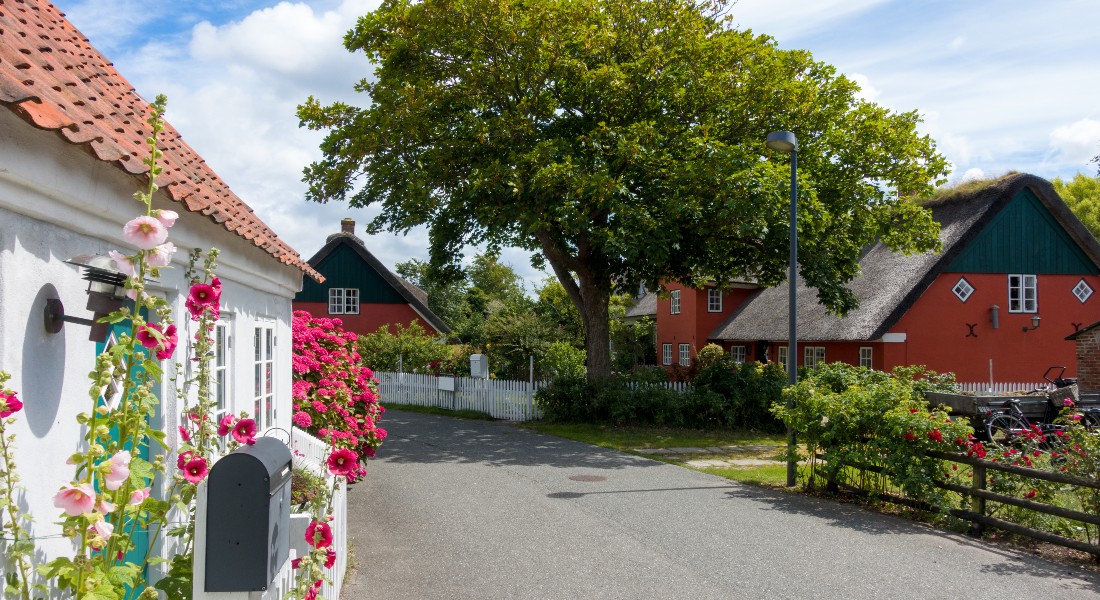 A closed school, a shuttered grocery store and a falling population. This is the reality of many Danish villages. However, in a new report from the University of Copenhagen's Department of Geosciences and Natural Resource Management, researchers make a number of recommendations for what can be done to spur development. The report shows that, theoretically, there is potential.
The report highlights previous recommendations from the Committee on Viable Villages—established by the Danish government—which mainly focused on what municipalities and, in part, the state, could do to incite development. Excluded from the recommendations were villages' own efforts. According to the authors of the new report, the omission was a mistake. In the future, the approach to village development should focus more on the input and efforts of local communities and their ability to access significant resources from above.
"There is potential for more development in a devolved Denmark if village communities are provided with better tools to contribute themselves. For example, this means that they ought to have access to resources from above that would otherwise be out of their hands," says senior advisor Hanne W. Tanvig of the Department of Geosciences and Natural Resource Management, who adds:
"We are in an age where digitisation and global trends in particular lead to cracks in the traditional characterisations of countryside and city. Moreover, COVID-19 has reinforced this trend, as many people have seen opportunities in small communities and are moving away from the big city."
Tools to help villages get started
According to Hanne W. Tanvig, many of Denmark's villages already have extensive associational life and are engaged in projects. However, an extra gear is often needed to spur impactful development.
"Many of the villages have community halls, Christmas tree lighting ceremonies, sporting life and village councils. These are the ones we imagine as doing well. Some are engaged in major initiatives, such as rescuing the local grocery store, but they should also be equipped to take measures that allow for permanent and positive structural changes for their community," she says.
As part of the report, the researchers have developed an "investigative tool" for villages to use. The tool helps clarify where a community stands and what they would like to be able to create through new developments. According to Hanne W. Tanvig, the analysis of their own potential and what they would do to equip their capacity is a very important first step.
"Their investigation should translate into an outright strategy for what the village community will be able to do to stimulate development. Among other things, it must be presented to the municipality so that it can be incorporated into the municipal village strategy. Otherwise, it will most likely be absent from the municipal village strategy. This is because it is unusual for municipal planning to involve villages so directly," she explains.
A shift in rural policy
It is not enough for villages alone to begin thinking more strategically and long term. The entire system must be prepared to support this type of local development and villages must be given greater influence, according to Hanne W. Tanvig.
Today, on the one hand, a variety of funding schemes for village projects exist, for example through the state, municipalities and the European Union. These are often linked to a kind of rural policy with no responsibility from public authorities. Another type of rural policy, on the other hand, has public authority responsibility, namely that of the various public policy areas with impact in rural areas, but is not linked directly to villages.
"Policies and support schemes must become more intertwined and village communities must be considered as actors from the get go. Clearly, they are the ones who will drive long-term development," says Hanne W. Tanvig.
Results from the study have just been presented and discussed with a wide range of village development stakeholders.
Facts:
According to the report, village communities must learn to strengthen their capacity for development, e.g., train in village management, entrepreneurship and exercise 'local governance', so as to increasingly shape and manage themselves.
The study identified and operationalised the concept of 'local development capacity' so that it can be studied, measured and promoted—with village communities as key players.
The report points out that the local development potential of rural communities is a fact that has been largely absent from official analyses and recommendations of the government-appointed Committee for Viable Villages.
Researchers developed an analytical method that can be used by villages to start a development process. The researchers divide the development opportunities into different capitals; human, social, political, physical and financial (economic) capital.
The Danish village communities of Vorbasse, Rødding and the island of Fur are examples of where the new tool has been used.
The project has been conducted with the support of the Danish Ministry of Industry, Business and Financial Affairs' Rural District Funding Pool.
Contact
Hanne Wittorff Tanvig
Senior adviser
Department of Geosciences and Natural Resource Management
Mobile: +45 30 58 98 20
Mail: hwt@ign.ku.dk
Lise Byskov Herslund
Associate Professor
Department of Geosciences and Natural Resource Management
Mobile: +45 30 36 60 05
Mail: lihe@ign.ku.dk
Michael Skov Jensen
Journalist
The Faculty of Science, University of Copenhagen
Mobile: +45 93 56 58 97
Mail: msj@science.ku.dk