13 November 2017
Yonsei-UCPH workshop in Seoul
A number of fruitful visits to Seoul in 2014-15 led to the University of Copenhagen deciding to further explore the possibilities for an institutional partnership with Yonsei University. As a first step the University of Copenhagen organized a joint workshop in April 2016. The workshop showed commitment on both sides and potential for research collaboration in various fields. Read more here
On 1-2 November 2017 the second Yonsei-UCPH workshop was held in Seoul. A UCPH delegation of 13 scholars led by Pro-rector Thomas Bjørnholm went to Seoul and took part in workshops with colleagues from Yonsei University. Besides building on research areas from the previous workshop - Social Welfare, the Arctic and Plant Science - a new theme, Smart Cities, was added to the programme.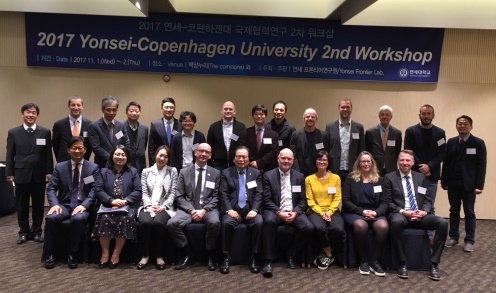 The Arctic
The workshop on the Arctic had productive and fruitful discussions with a shared goal of reaching collaborative results.
Areas of common interest:
Smart Cities and the Arctic (connecting cities – Nordic region including Greenland, Arctic Russia, and Asia)
Facilitating collaborative governance (common risks and challenges, exchange of knowledge on Search and Rescue (SAR), fishing in the ocean around the Arctic)
Transregional, transnational and translocal collaboration (IR, rights/risks perception of indigenous peoples, enhancing sustainability) 
Next step will be development of common research projects, organizing focused workshops and developing strategies for fundraising.
Smart Cities 
As a research field, smart cities imply the need for interdisciplinary approaches that bring together various technical and social science questions and competencies. The session demonstrated both the prospects and the challenges of such interdisciplinary dialogue with presentations from mathematics, engineering and information science through to urban planning, landscape architecture and sociology. For future conversations other relevant disciplines such as economics, law, political science and various branches of the humanities could be included. 
Clear points of convergence in research interests:
Urban sustainability and environmental management systems
Urban transport planning and behavior
Co-design and co-creation among planners, designers and citizens
Citizen participation in smart city planning, including via open data platforms
Going ahead, it will be important to clarify further the different research partners and priorities of the two universities, in order to enable a productive matching of competences and interests. Yonsei's newly launched Research Institute for Future Cities and Society could become an interesting platform for future collaboration.
Social Welfare
The workshop on social welfare showed a large overlap in areas of interest and was characterized by an intense, enthusiastic and focused discussion. As an outcome the group identified four topics for future collaboration as well as initiators for each topic. 
Fertility: Comparing institutional and cultural conditions related with fertility between Denmark and Korea. (Prof. Ayo Wahlberg and Prof. Young-Mi Kim)


Comparative study on welfare state regimes: Analyzing and comparing distinctive ways in which Denmark and Korea deal with social challenges such as demographic changes and economic instability. (Prof. Peter Abrahamson, Prof. Jaejin Yang, Prof. Chan-Woong Park)


Health: Exploring various social factors that produce health-related outcomes including family arrangements and social networks. (Prof. Karsten Vrangbaek, Dr. Jieun Lee, Prof. Ayo Wahlberg, Prof. Yoosik Youm, Prof. Bo-Kyung Seo)


Aging: Comparing how each country reacts to the aging of the society, how welfare policies are responding to the needs of the increasing elderly, etc. (Prof. Karsten Vrangbaek, Prof. Youngjun Choi, Dr. Jieun Lee)
Plant science
Joint research between individual scholars from Systems Biology, Yonsei University and the Department of Plant and Environmental Sciences, University of Copenhagen, is already well established. Building upon these existing ties, the aim is now to expand the field and explore possibilities for collaboration in related areas within Plant Science, Life Science, Biochemistry and Biotechnology.
Expanding to other areas
During his visit Thomas Bjørnholm also met with leadership representatives from the College of Life Science and Biotechnology and the Song-Dang Cancer Research Institute to discuss possibilities for including these research fields in the Yonsei-UCPH collaboration. 
Meanwhile conversations between scholars from UCPH and Yonsei University on the already established themes will continue. There are initial plans to organize a third workshop in Copenhagen in 2018.